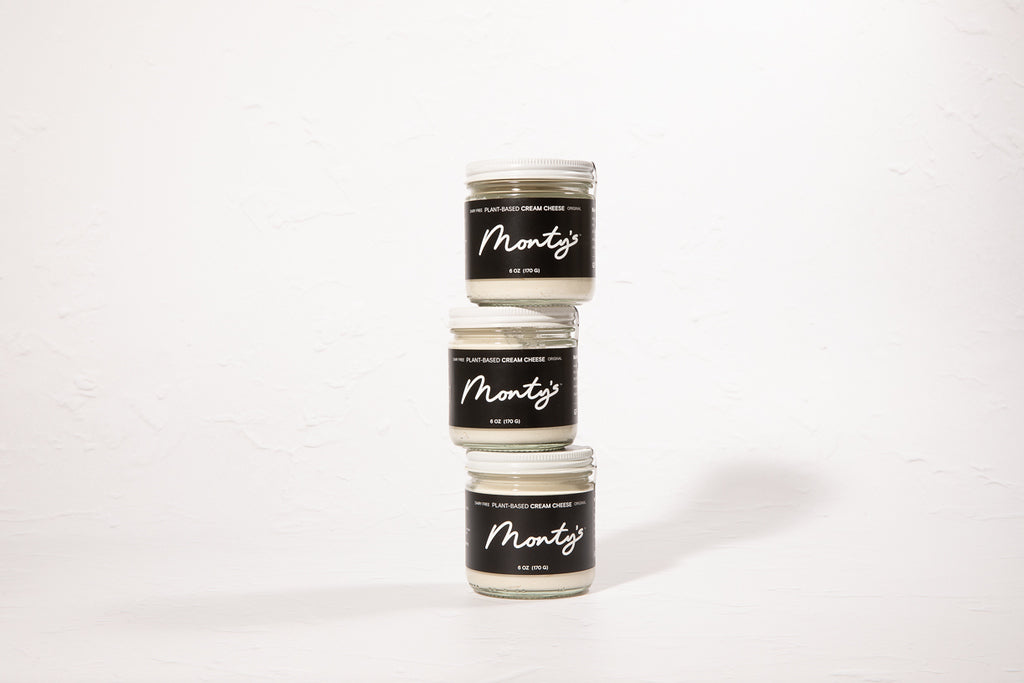 ABOUT MONTY'S
Monty's was founded with the intention to bring plant-based dairy products that taste amazing (even better than conventional dairy!) to everyone. We're bringing everyone to the table from flexitarians to people who eat paleo or keto, to people with allergies, to vegans and vegetarians. Everyone will enjoy the craveable, delicious taste of Monty's. With simplicity and nutrition at the core of the brand, Monty's selection of cream cheeses and butter are made from real-food ingredients and crafted using time-honored techniques like fermentation.
Cloud is our new line of pure ingredient cashew cream cheese and butter made with lighter, more retail friendly packaging. Our Cloud Cheese is made with the same few ingredients as our original divine line, just cashews, cultures & sea salt and packaged in a perfectly hermetically sealed PET pouch, which allows us to increase our shelf life as well as make our price point at grocery stores more accessible. Our Cloud Butter is made with organic coconut oil, organic cashews, almond oil & sea salt, and packaged in a light as air paper cup.
We ship Monty's to the 48 contiguous United States, including our new Cloud line. Check out our Store Locator to see where you can find Monty's at a retailer near you!
We ship Monty's plant-based essentials to the 48 contiguous United States. If you would love to find Monty's at a retailer near you who also cares about healthy & delicious food, check out our Store Locator or send us a message at hello@livemontys.com. We're always looking for great local retail partners to bring Monty's closer to you.
Some are! Our original Montys jars are made of glass, which is 100% recyclable. You can re-use them endlessly without losing quality or purity. Our new Cloud line is not recyclable. The Cloud Butter utilizes paper cups that are made with 92% paper, they do have a PET liner and the Cloud Cream Cheese Pouches are PET in order to maintain freshness and shelf life at store level. We are constantly working to minimize plastic use and balance our sustainability standards with functionality and cost. We also ship using recyclable cardboard and special recyclable cooler technology to keep your products cold and safe while shipping, and also protect the environment from harmful Styrofoam.
We believe wholeheartedly in the power of pure, plant-based essentials done the right way. To us, this means using the highest quality ingredients and producing Monty's in a way that minimizes harm on the environment. Unfortunately, this mission comes with its share of costs, but we are working hard to continue making our products more accessible so that everyone can enjoy these delicious, plant-based essentials.
CONTACT MONTYS
Please reach out to us at hello@livemontys.com. We can't wait to hear from you!
Please reach out to us at hello@livemontys.com. We can't wait to hear from you!
ORDERS
Because Monty's is made with real, whole food ingredients, we use cold shipping to preserve quality. In addition to giving you the most real and fresh product possible, we also want to do everything in our power to reduce our environmental impact. Our order minimums put more of our products in one box, which lowers emissions from shipping and lessens packaging waste. If you're worried about not being able to finish all of your Monty's, you can freeze all of our products to extend shelf life for months (but we won't stop you from finishing it all faster than that). If you are wanting to buy one unit at a time and avoid shipping, you can find us at a local retailer near you (here).
We offer all Montys products online to be purchased in bundles of 4. You can buy a bundle of 4, 8 or 12. We offer a less expensive shipping option for purchasing the Cloud line only, due to the lighter and more compact packaging.
All US shipping is $29.99 for a 4 pack and $19.99 for a 8 pack of glass jars. Our new Cloud line is lighter and less expensive, if effort to make shipping direct more accessible. 4 pack shipping for Cloud only, cheese & butter is $9.99. An 8 pack of Cloud Cheese and Butter is free shipping! In order to ship these cold and fresh to you, we must ship 2 day air. Please select this option at checkout.
We ship Monty's plant-based butter and cream cheese within the 48 contiguous United States.
Unfortunately, right now we are only available for sale and shipment within the contiguous United States. We hope to be available to bring you pure, plant-based essentials worldwide in the future!
We ship out all orders 2 day air on Mondays. Monty's is made with pure, plant-based ingredients, so we want to make sure that you are receiving our plant-based goodness at peak freshness as its produced weekly. Orders placed after Monday will be fulfilled the following week. If you have any questions about when your order will be fulfilled, please reach out to us at hello@livemontys.com.
We ship our pure, plant-based goodness from our commercial kitchen in Los Angeles, CA.
Once your order has shipped, we will send you an order confirmation email. You can also sign up for text message tracking or track your order directly through your shipment confirmation email.
Not at this time. Please understand that we must ship our products cold and with expedited shipping, to get it to you in mint condition. We do our best to keep the shipping costs as low as possible.
We accept all major credit cards.
If you created an account on our website, please log in to your account. You should be able to see your order there. If you don't have an account or can't locate your order, please reach out to us at hello@livemontys.com.
Reach out to us at hello@livemontys.com so that we can help.
Unfortunately, changes and cancellations cannot be guaranteed due to our rapid order processing and shipping schedule. Have a question? Reach out to us at hello@livemontys.com so that we can help.
We are so sorry for the inconvenience and want to make it right. It is extremely important to us that you get the highest quality products delivered to your door. Please reach out to us at hello@livemontys.com.
If your Monty's arrived fully thawed and warm, please do not eat it. Because Monty's is made of real, whole ingredients, it must be kept cold. We ship it frozen, and it should be stored that way until you thaw it in the fridge. We want to make sure you get the highest quality plant-based essentials delivered to your door, so please reach out to us at hello@livemontys.com if your product didn't arrive cold.
We are so sorry for the inconvenience and want to make it right. Because Monty's is made out of real, whole ingredients, it is extremely important to us that you get the highest quality products delivered to your door on time and with maximum freshness. Please reach out to us at hello@livemontys.com.
Because our products are made with real, whole plant-based ingredients and are perishable, we do not accept returns. We are committed to providing you with the highest quality, delicious plant-based essentials, and we may offer refunds/and or replacements on a case by case basis.
Yes, we offer bulk/wholesale discounts. Please contact us at hello@livemontys.com, so we can set you up with a wholesale account. We look forward to sharing our plant-based essentials with you!
In order to give you the freshest products, made weekly, we ship all orders Monday with ice packs via 2 day air. Orders received after 8pm ET on Sunday will be shipped the following week.
For direct wholesale orders, we offer orders of 18 or 36 products, which is 3 or 6 cases.
We would love to enter your store into our Store Locator. Please email hello@livemontys.com with the SKUs that you are currently carrying and your store information so that we can add you on our site.
Please reach out to us at hello@livemontys.com with more details about your business. We can't wait to hear from you!
PRODUCT AND INGREDIENTS
Cashews are the perfect creamy, yet neutral ingredient for developing flavor during the fermentation process. They are rich and creamy, slightly sweet, and create that texture we know and love, without additives!
Our products are made in a dairy-free facility in California. The facility processes all tree nuts, peanuts, and sesame.  Monty's products are made with the utmost care & intention with the purest plant-based ingredients and proprietary processes. Founder, Lauren Montgomery oversees all production and testing to ensure every batch of Monty's is the deliciously creamy butter and cream cheese you know and love.
Fermentation is a traditional process of preservation that involves adding healthful bacteria to foods to catalyze enzymatic reactions that convert carbohydrates into acid - in this case cashews into tangy, cheesy delectable goodness. Other fermented foods include pickles, kimchi and beer! Not only is the fermentation process used for flavor and texture, but fermented foods are also chock-full of probiotics and prebiotics which are important for optimal digestion and a healthy microbiome.
We carefully source the highest quality ingredients from certified organic, non-gmo and fair-trade suppliers.  The only non-organic ingredient that we use is almond oil, which we source locally in California to ensure that it is cold-processed without the use of chemicals.
We never use any gums, fillers, preservatives, additives, hidden ingredients/ processing aids, or lecithin in our products. It is so important to us to only use a few simple ingredients that your body recognizes and to not take shortcuts to create real, delicious & nourishing food.
Depends on your dietary restrictions! We are 100% gluten, dairy and soy free. Our products are made with cashews, almonds, and coconut, and processed in a facility that also processes peanuts. Individuals with nut allergies should not eat any Monty's products. Our Everything Cream Cheese contains sesame, garlic, and poppy seeds, so individuals with allergies to these or any of our other inclusions should not eat those products.
Our products are not certified raw, but our proprietary processes for creating our cream cheese and butter do not involve applying heat.
Our products are not certified gluten free, but they are not made with and do not contain any gluten.
No, Monty's is not kosher certified at this time, but we are looking into certification.
We do not currently have any nut-free products.
We are always testing out new and exciting formulations and flavors, and we hope to launch new ones soon! If you have any ideas or requests, shoot us a line at hello@livemontys.com.
USING OUR PRODUCTS
YES! We highly recommend cooking and baking with our products. They are your new dairy-free essentials intended for the same culinary standards as conventional dairy cream cheese and butter.  Sub the cream cheese and butter 1:1 in baking recipes. Cook with our butter on low-medium heat.
Yes. Use Monty's Cream Cheese in all of the same applications as you would conventional dairy cream cheese, and more! We recommend cooking at low heat on the stove top, to get melty gooey and not burn. For high heat baking like pizza, we recommend adding Monty's right at the end of cooking (with your delicious fresh basil). We are made of nuts after all. Don't forget us on the stove :)
Monty's products must be stored refrigerated or frozen.  We highly recommend freezing them if you want to extend the shelf life by several months. They freeze beautifully and maintain their texture well.
The refrigerated shelf life of Cloud Cheese pouches is 3 months refrigerated and the original Montys in glass jars is 8 weeks from production. Our butters will last up to 12 weeks refrigerated. For the freshest taste, use both within 10 days of opening (and try to refrain from double dipping!). Store frozen to increase shelf life by up to 6 months.
We'd love to hear from you! Please visit our product pages to add a review for any of our products.